Please consider supporting the El Reno Survey with a tax-deductible donation.


Compiling, analyzing and distributing the project database requires considerable resources and effort by our team. We value all donations regardless of size!
There are two ways to give:
BY CHECK: Tax-deductible contributions may be sent to



The El Reno Survey, Fund 93261
C/O David Taylor
Appalachian State University
P.O. Box 32021
Boone, NC 28608-2021
Please write "El Reno Survey/Fund 93261" in the Memo section of the check.
---
BY CREDIT CARD: Donate online using Visa, Mastercard or American Express by clicking the button below.
Donors should select the "Other Fund Comments" box.
Important! Please specify our project by typing "El Reno Survey/Fund 93261″ in the "comments" box in the Additional Information section. Click HERE for an example.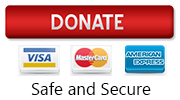 A letter specifying your tax-deductible contribution to the Geography & Planning Faculty Research Gift Fund will be provided by the Appalachian State University Foundation upon receipt of your donation. Appalachian State University Foundation, Inc. is recognized by the Internal Revenue Service as being able to accept gifts of a charitable nature as provided under Section 501c(3) of the Internal Revenue Code.